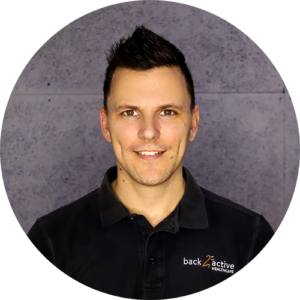 Bachelor of Chiropractic Science, Master of Chiropractic
Jason has a keen interest in the treatment of sporting injuries, disc injuries, work related conditions and the general wellbeing of his patients.
Jason has worked with state league soccer teams, providing injury prevention management and played competitively both in state league and local premier league soccer teams. He has worked with Forest Rangers FC, St George FC, Dulwich Hill FC, Wests Junior Rugby Union and Earlwood Wanderers FC.
Jason offers his patients a one on one consultation, providing individual treatments according to their specific needs. This allows for treatments with improved response to recovery. When treating his patients, Jason uses a number of highly-effective adjusting approaches to help improve spinal biomechanics and reduce nervous system interference. These include advanced soft tissue techniques, trigger point therapy, gentle spinal manipulations, activator instrument and drop piece. Jason also implements exercise and strength conditioning to assist his treatments. Optimising human movement performance. He will provide you with the understanding needed to continue your daily activities pain free.
Jason's education is ongoing, with regular attendance at healthcare seminars to increase his skill and knowledge. He likes to keep up to date with the most effective techniques and latest scientific research in the management of musculoskeletal injuries and the upkeep of optimal health.

Call Us Today